Create extremely strong, attractive miter joints that lock in place and won't open up.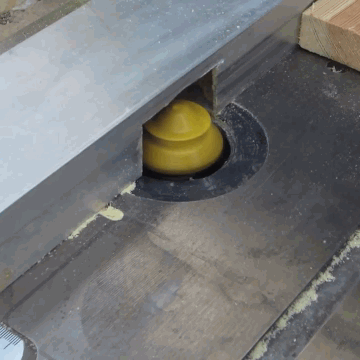 - Quick and Easy to assemble cut workpiece on the job site or in the workshop.
- Ensures your miters won't come apart with the interlocking profiles and increased gluing surface area.
- Save time puttying and filling those nail holes - no nailing required with the Lock Miter.
- Perfect for cabinet framing, drawers, four sided planters, boxes, shadowboxes, columns, hollow beams, fine furniture framing and much, much more.
Whether you are a Tradesman, Enthusiast or DIYer mastering the Lock Miter will ensure you'll be creating stunning pieces of furniture, drawers and casework for years to come.
How it works
Lock Miter bits are designed to create corner joints at a 90° angle where the apex of the joint is barely visible. This joint makes it easier to assemble boxes and larger carcass workpieces together and significantly increases joint strength by increasing the gluing surface area.
One work piece is run vertically and the other horizontally against the fence.
To set up, get scrap timber that is the same thickness as your intended work piece and set the centre line of the bit with the centre line of the workpieces. Run both workpieces and fit together.
If you are regularly using that thickness of timber then save the scrap to make it quicker and easier to set up next time. These bits must be used in a router table with fence.
If you want to checkout with Credit Card.
1.Please Click Buy It Now and 'PayPal'.
2.Search for 'Checkout as Guest' or 'Pay with Credit or Debit Card', Enter your Payment details, your Billing Address, and your Contact Information.